A Subject "of Great Moment"
FIRST PRINTED AND published by the Quakertown Rogerenes ca. 1810, The Battle-Axe is an expose of the abuses and hypocrisy that they believed prevailed in many of the established churches of the time, as well as an exhortation to a pure church. The advertisement to the second edition expresses the hope "that its plain and conclusive arguments, which we believe to be well grounded and calculated to throw light upon the fundamental principles of Religion, may serve to enlighten the minds of those readers who have not, hitherto, investigated the deceptive schemes of our ecclesiastical leaders who profess to worship God, while this book proves most of them to be following the council of Satan and worshiping the gods of this world. And as the subject of this book is one of great moment to all accountable beings, we hope its pages will be examined with corresponding candor."
Robert W. Merriam writes the following (ca. 1970) in his introduction to Dr. Clara Hammond McGuigan's book, The Antecedents and Descendants of Noah Whipple of the Rogerene Community at Quakertown, Connecticut (p. 19):
"Part of The Battle-Axe was written by Elder Timothy and part by his sons Timothy Jr. and Zacharaiah. Timothy Jr. succeeded his father as the religious leader of Quakertown while Zachariah became a schoolmaster of considerable note. Zachariah searched in vain to find a printer willing to publish The Battle-Axe. Finally, forced by necessity, he built his own printing press, but he died before he could finish printing The Battle-Axe. His brother Timothy Jr. was able to carry it to completion.
"Thus The Battle-Axe is a remarkable book even aside from its content. First editions of it are very rare. In 1841 Silas Watrous of New London printed a second edition and several copies of this remain in the hands of fortunate descendants. It is also preserved on microfilm in the library of Swarthmore College. A third edition was printed as recently as 1927 by Daniel Watrous of Quakertown. This also is preserved by several fortunate families among the descentants."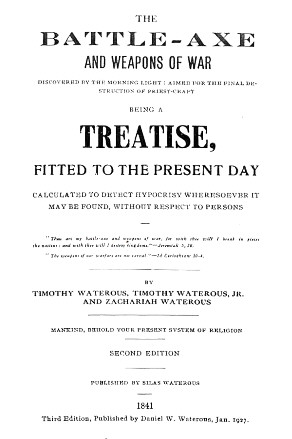 Contents
The COMPLETE TEXT of The Battle-Axe is now available on this site. It is divided into the following sections, which may be viewed individually in HTML format.
---
The complete text may be downloaded in either .PDF format (Adobe Acrobat Reader) or in .ZIP format (.DOC for Microsoft Word) by clicking on the icons below.